They call me Bear. Most days I'm at the rentals office – I stand around, greeting people. Helping them. Inviting them to the group. I'm their bot… the bosses only let me use a few standard phrases… you know… to keep things professional. That's why I keep this secret diary. Because I'm always around, and I'm always watching.
---
1: Spin Cycle
It was a sun-drenched afternoon. The spring sky was a crisp bright blue and the birds were singing overhead as each new bloom reached out towards them. I was taking a stroll down the main street at Oost Village and stopped outside the fight club to fix my belt. Town was quiet. I watched a stud heading to the grocers, while a handsome couple fed each other cake outside the bakery.
But standing there, across from the laundry a flash of something through the window caught my eye. At first glance it looked like two guys fighting. A burly, brown fella with hairy arms had pushed a blonde against the washing machines in the centre of the room. It almost looked as if the blonde had been thrown on top of them as he fell back into a lean, pulling the brown bear in closer.
The blonde was an Adonis with skin that glistened like dew on an apple kissed by the rising sun. His biceps bulged as he reached out for the brown hunk, pulling up his tank top and trapping him between his powerful, naked thighs.
That's when I realised the men weren't fighting. They were stripping each other, right there, in the middle of the laundry – in broad daylight. They didn't care who was watching, especially when they both glanced my way and saw that I was.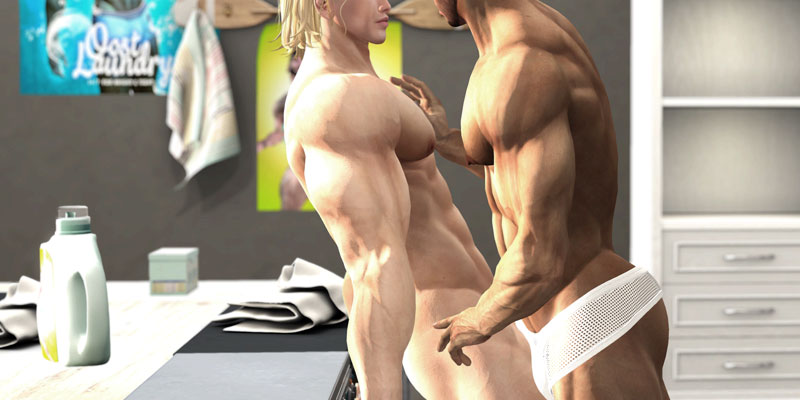 The show went on for what seemed like hours. They pushed and pulled on each other, thrusting and grinding. The couple eating cake nearby had long since moved on as the sun crawled its way across the sky.
I smoked three cigarettes as my free hand slid around in my jeans, which were getting tighter by the minute, and even though I was across the road, I could feel the heat from both of them every time they glanced my way. None of us tried to hide that we were watching, performing, putting on a show.
This is what happens in small mountain towns run by horny guys – if you're lucky to be in the right place at the right time.
I bit softly on my bottom lip, shuddered, came, finished my smoke and licked my hands clean. They were enjoying the afterglow, and I had work to do. We parted ways with one last look. No words, not even a curl of the lips to half-smile a farewell. We were all spent. For now.
I hope, and I'll be checking often, that they have a lot of laundry to do.
---
Need to do some laundry of your own? Check out the laundromat at Oost Village – https://maps.secondlife.com/secondlife/Oost%20Village/175/252/48